Many different people have alternative good-luck rituals when they hit the online slots, believing that playing in a certain way will increase their chances of doubling their money and winning big cash prizes. With Lucky Zodiac Online Slot, the lucky charms are right there in front of you from the moment you start spinning.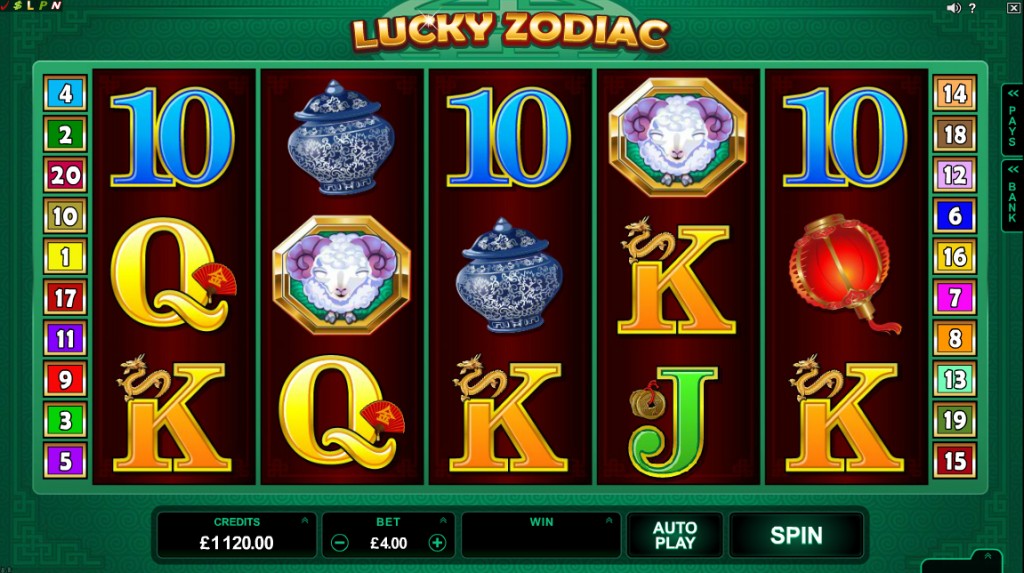 Using the theme of Zodiac signs and astrology, Lucky Zodiac Online Slot is in many ways a casino game that's out of this world. Like Zodiac signs themselves, the Lucky Zodiac game is curious and otherworldly, yet has a sense of comforting familiarity about it too.
Lucky Zodiac Online Slot is a 5 x 3 reel game with 20 separate pay lines. The symbols on the reels all represent the 12 different Zodiac signs: Aries, Taurus, Gemini, Cancer, Leo, Virgo, Libra, Scorpio, Sagittarius, Capricorn, Aquarius and Pisces. The game also features Wilds symbols and Firecracker Scatter symbols which have the ability to turn the entire game on its head.
From time to time the users will see the image of a sun pop up across the reels. In Lucky Zodiac Online Slot, the sun represents both the Wild and Firecracker Scatter symbols. If a spin reveals three or more images of the sun, players are granted ten free go's on the "bonus spin run". When entering the bonus spin run, the colourful interface of Lucky Zodiac Online Slot changes slightly.
Players are then asked to try and land five of the same "element" (Fire, Water, Earth, Air) in order to win earn themselves a special bonus prize. Every Zodiac sign is linked to a particular element!
If you're feeling particularly lucky when playing Lucky Zodiac Online Slot, you also have the opportunity to double, or even quadruple, your current winnings. All you need to do is hit the "GAMBLE" option once you've received a payout, and you could be on your way to receiving enormous cash prizes.